Radio Sunnydale - 16-11-03 :
The third album to be released, Radio Sunnydale brings more of the music from the tv series to your home. Favourites such as "Sugar Water" by Cibo Matto and "Pavlov's Bell" by Aimee Mann appear on the track list.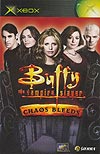 Buffy the Vampire Slayer - Chaos Bleeds - 28-10-03 :
The second Buffy computer game comes to X-box, PS2 and Game Cube. Chaos Bleeds takes the Scoobies to another dimension in a battle with the First Evil. Many of the cast are back to provide voice overs for their characters including Robin Sachs as Ethan Rayne, Amber Benson as Tara and Eliza Dushku as Faith.


Angel to return for season 5 - 06-07-03 :
Not all is lost as Angel will return for a fifth season with the addition of James Marsters ( Spike ) as a cast regular.


FINAL EPISODE OF BUFFY on the UPN - 20-05-03 :
The final episode of Buffy the Vampire Slayer will be shown on UPN :(



Buffy the Musical "Once more with feeling" - 14-04-03 :
Released on DVD and Video, the hit episode from season 6 of Buffy the Vampire Slayer. Also available to buy, the music CD.


Season 7 starts on the UPN - 24-09-02 :
A new season of Buffy the Vampire Slayer starts on the UPN.



Buffy the Vampire Slayer on X-Box - 13-09-02 :
Now you can fight the Demons in Sunnydale in this all new action/adventure game on the worlds most powerful games console


Buffy Season 7 films in the UK - 01-09-02 :
Alyson Hannigan and Anthony Stewart-Head have just finished shooting the first episode of season 7 in Bath, England.



Anthony Stewart Head | Music for Elevators - 05-05-02 :
Available now on CD, Anthony Stewart Head takes on the musical world. Order your copy now from the BIABD web site at http:www.musicforelevators.com
( I have )


Buffyinfo Guestbook - 21-04-02 :
Launched on April 21st 2002 - the guestbook is the first of many new features appearing on buffyinfo.com.


Buffyinfo launches - March 02 :
I started getting ideas back in 2000 for a website that I could create to help keep people informed and enventually to create a community.
This is the first of many steps.